A First-Time Outsourcing Decision Pays Long-Term Dividends
Customer Support, Targeted Sales, Order Fulfillment
First, the obvious: an online interaction is not the same as a face-to-face transaction. But when your value proposition is built on being a lifestyle brand rather than an eCommerce company, this distinction can get blurred. This client sells tangible goods like apparel and household items. There is also an intangible 'product' line: optimism, the healing power of laughter, and the joy derived from random everyday activities.
This message was gradually getting lost as the business struggled to keep up with increasing demand. There are certainly worse concerns than rapid growth that a company can face, but when the rate of growth encroaches on the customer experience, a far more serious issue can emerge. That's where we came in as the first-ever outsourced customer support provider in the brand's history.
This client is as much a lifestyle brand as an online merchant and a service team that reflects that is a key part of the consumer experience.
Supporting the Brand in the Manner That Customers Expect
Disrupting the client's service routine as the peak season began.
Separate voice and chat teams were hired, covering all aspects of the consumer lifecycle.
Program growth of 40% with expansion to an additional location.
The program began with a simple challenge from the client: treat customers like guests or friends rather than buyers and extend the feel of the brand into service.
Business was good. Too good. The volume was outpacing the in-house support team's ability to keep up, so for the first time in its history, the company took on an outsourcing partner and incorporated chat into its customer communications channel mix. For good measure, this engagement began as a new holiday shopping season was approaching and, with it, an even further increase in demand for customer care.
This company is aware that consumers have evolved over time and that people today often look for 'experiences' rather than products and services. They also expect personalization and often look for businesses with value systems like theirs. That last factor is a big part of this brand's proposition, which made them a good match for us in the first place. The client has invested a lot of time into nurturing a growing community of fans by nurturing positivity and putting its mouth where its money is through initiatives like a children's foundation.
The first thing we had to address was training. When service was exclusively internal, the client hired service personnel one at a time, and the company's trainer worked side-by-side with new agents until they were ready to work solo. In a contact center environment, that approach is not feasible, so our training team worked on-site with the client to become immersed in the product lines and use that experience to create a mass instruction curriculum based on client protocols. We are also continually updating a knowledge base that agents can refer to as needed and add to as new information is discovered.
The nature of this client's business was also a tailor-made opportunity for our proprietary introductory training program on how to create "wow" user moments that turn service into a retention strategy and revenue-generating arm. This training focuses on agents working as our clients' brand ambassadors, beginning with the first touchpoint and addressing customers by name, establishing a conversation, and actively listening to what consumers say to understand their motivation for making contact.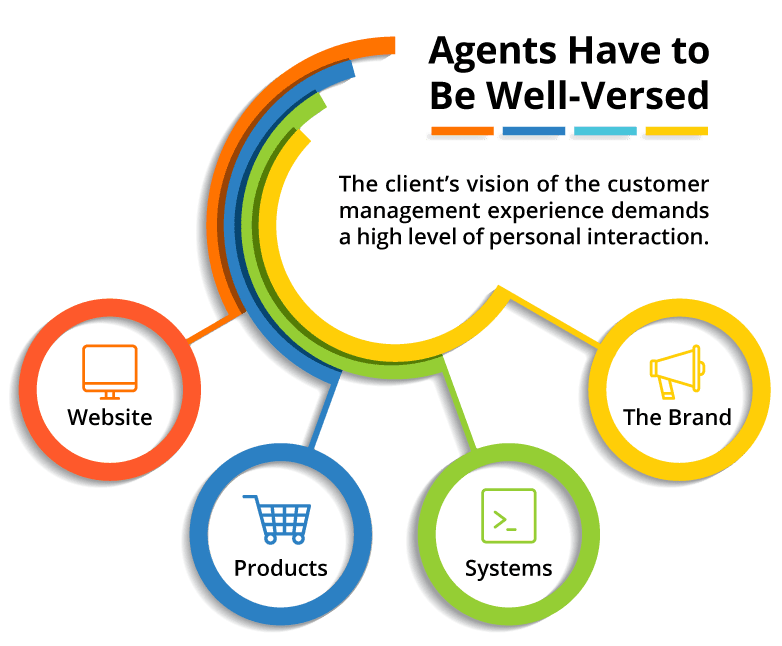 This program puts a more significant premium on soft skills since there is no tech support component. The client's vision of the customer management experience demands a high level of personal interaction. Agents have to be well-versed on the website, products, and systems, and also the brand itself. The training process is roughly two weeks, including classroom instruction and a nesting phase.
Since its inception, this program has grown by 40% and expanded to a second location. What began with just the voice channel now includes chat, which is both a preferred channel among consumers and a great asset for operations during peak times since agents can engage with multiple customers simultaneously. Try doing that with voice.
CSAT for this program is more than 90%, with a first-call resolution rate of 85%. Another metric important to the client is "connection rate," meaning calls answered within the prescribed time window of 60 seconds or less. For most of the year, it hovers at 92% with some fluctuations during peak demand. In a typical shift, agents can touch on every part of the customer lifecycle: helping first-time buyers find specific items, order placement, upselling when possible, or facilitating returns and replacements. The all-encompassing nature of the job is a boon to agent engagement as it prevents staleness from appearing.
Aside from "make the customer happy," the critical metrics are first call resolution, average handle time, and response speed to calls and chats, augmented by issue resolution time and attendance. The latter seems obvious, yet many clients come to us because of a problem with agents who cannot be counted on to show up.