Company Named Customer Service Outsourcing Provider of the Year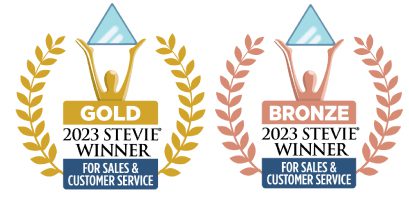 [Louisville, KY] – March 6, 2023 – GlowTouch was recognized for excellence twice, including a Gold for Contact Center/Customer Service Outsourcing Provider of the Year, at the 17th annual Stevie Awards for Sales & Customer Service. The company also won Bronze for its proprietary WoW training program for all new employees.
GlowTouch was among nine finalists competing for Provider of the Year. "We are proud to be awarded the Gold Stevie Award for Contact Center/Customer Service Outsourcing Provider of the Year. This recognition is a true testament to our team's relentless dedication to providing outstanding customer service and operational excellence to our clients," stated Vidya Ravichandran, President & CEO of GlowTouch. "I am immensely proud of our team's unwavering commitment to creating memorable experiences, and this award serves as a reminder of our promise to always prioritize our customers at the core of everything we do."
The Stevie Awards for Sales & Customer Service are the world's top honors for customer service, contact center, business development, and sales professionals. The Stevie Awards organizes eight of the world's leading business awards programs, also including the prestigious American Business Awards® and International Business Awards®.
GlowTouch was also recognized for its WoW, or Week of Wisdom, introductory training program that all new employees undergo. Done at the company's expense, this instruction focuses on creating the conditions for delivering memorable customer experiences. "This training sets the tone for everything that follows," said Tina Hammons, SVP of Customer Experience. "We do this before any client-focused training so that agents are thinking about how to engage customers before they ever take a call or start a chat." 
Winners were announced during a gala event attended by more than 400 professionals from around the world at Caesars Palace in Las Vegas, Nevada, on Friday, March 3. More than 2,300 organizations of all sizes and in virtually every industry from 49 nations and territories were considered in this year's competition. Winners were determined by the average scores of more than 170 professionals worldwide on seven specialized judging committees. Entries were considered in more than 90 categories for customer service and contact center achievements.
"The nominations we received for the 2023 competition illustrate that business development, customer service, and sales professionals worldwide, in all sorts of organizations, have continued to innovate, thrive, and meet customer expectations," said Stevie Awards president Maggie Miller. "The judges have recognized and rewarded their achievements, and we join them in applauding this year's winners for their continued success."
About The Stevie Awards
Stevie Awards are conferred in eight programs: the Asia-Pacific Stevie Awards, the German Stevie Awards, the Middle East & North Africa Stevie Awards, The American Business Awards®, The International Business Awards®, the Stevie Awards for Great Employers, the Stevie Awards for Women in Business, and the Stevie Awards for Sales & Customer Service. Stevie Awards competitions receive more than 12,000 entries each year from organizations in more than 70 nations. Honoring organizations of all types and sizes and the people behind them, the Stevies recognize outstanding performances in the workplace worldwide. Learn more about the Stevie Awards at http://www.StevieAwards.com.