Company Earns 'Aspirant' Status in Global Assessment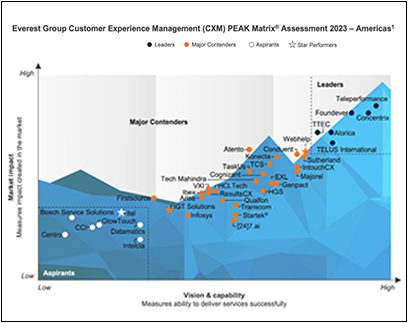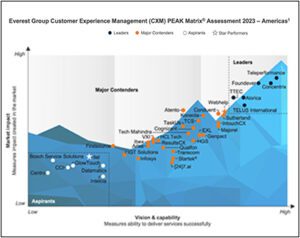 (LOUISVILLE, KY) – GlowTouch LLC, a global Business Process Outsourcing (BPO) services provider, has made the Everest Group's PEAK MatrixTM Assessment of contact center firms for the third straight year. GlowTouch was named an Aspirant in the consulting giant's annual compilation of outsourcing excellence. The citation comes during another year of growth and a phase of technological innovation.
"We are privileged to once again be recognized by Everest Group as a trusted service provider," remarked Vidya Ravichandran, CEO and Founder of GlowTouch. "As our company evolves and expands, our emphasis has shifted towards pioneering hi-tech solutions to augment and enhance our contact center and technology outsourcing offerings. While human expertise remains at the core of outsourcing, the advent of innovative AI tools, many of which we're introducing, aims to amplify our team's efficiency and capability. This combination ensures we offer unparalleled customer experiences."
In addition to welcoming new clients, expanding existing programs, and onboarding dozens of new personnel, the GlowTouch R&D pipeline has been busy. Among the innovations is:
a virtual assistant and coach for live agents that works across all channels and combines artificial intelligence with the human touch.
a text analytics and customer sentiment measurement tool that gauges key moments that define interactions and determine whether we delivered a "wow" experience or missed an opportunity.

a coaching portal that tracks performance over monthly periods, offering insights into product efficiency, pinpointing issues, and suggesting solutions.

"Advancements in technology have opened up exciting possibilities for elevating customer engagement while also empowering service agents and improving their capabilities," stated Tammy Weinstein, Senior VP of Marketing and Analyst Relations. "We see emerging tools as offering a win-win solution. Routine, yet time-consuming, tasks can be automated, while features such as AI serve to enrich the live agent's role and amplify the human aspect of interactions."
The PEAK Matrix is an annual assessment of the capabilities and market impact of service and technology providers across multiple industries. It covers companies, products, solutions, and locations and ranks companies accordingly. The Customer Experience Management (CXM) report includes metrics such as a company's size and revenue, the diversity of its clientele, vision and strategy, geography, and scope of services, among other factors.