The SaaS industry saw rapid growth in 2020, and that should continue this year. Software-as-a-service continues to flourish, and it is not by accident. Companies in this space are influencing their own success, and customer service is among the key components.
Service in a digital environment is a cornerstone of any modern SaaS endeavor. It is critical that customers be able to quickly access any help whenever they need it.
The Value of Customer Support in SaaS
Delivering quality service is crucial
Customer service has been an essential part of business since the beginning of business. Today, customers are more savvy – and more demanding – than ever, expecting to be treated as individual human beings with unique needs, not as statistics or numbers. If your business is not providing high-quality, high-touch customer care, then you will lose customers.
White glove customer service tells clients that they are respected and valued. Support in the SaaS world takes some work; anything worthwhile does. But the results are very beneficial to companies that put in the effort.
Post-sale proactivity works wonders
Customer support begins almost immediately after the sale. It is a crucial step in establishing a long-term relationship with customers who will need your help to get the greatest value from the software they purchased. If your service is not up to par, then users may not care how great your product is.
By being proactive and contacting customers even before they have questions, you will likely see a spike in client satisfaction. You already have user data on hand; use it to predict what users might want or need from your software, and then use that knowledge to shape how service and support are delivered.
Customer Support Helps Cross-Sell and Upsell
Cross- and upselling are two integral components of any successful SaaS business plan. If you cannot convert customers from one-time sales into repeat purchasing, then chances are that you are missing something.
Customer support is an ideal place for cross-selling and upselling, no matter the software product. Agents are the frontline boots on the ground; they are able to understand your customers and guide them. The more that users understand your software and the more comfortable they feel with your support team giving them advice, the more open they will be to trying out other offers.
The Digitalization of Customer Service in SaaS
Service going digital is a natural fit for SaaS companies for practical reasons. One, they are already in that space, and two, so are their customers, so the service element must reflect the greater reality. This is not about creating showy apps or flashy web pages; it's about providing customers with the answers they need as quickly and efficiently as possible. It's about helping them to be successful by using your products.
Millennial, Gen Z, and even Gen X customers have this habit of expecting and wanting more. They are looking for a customer journey that is seamless from start to finish. So, if you're selling software over the internet, then logic demands that customer service be electronically-based, too.
The digital transformation is touching virtually every business in every industry. Every day, technology is used to create or modify business processes, work cultures, and customer experiences. SaaS is at the forefront of this movement.
Best Practices for Customer Support in SaaS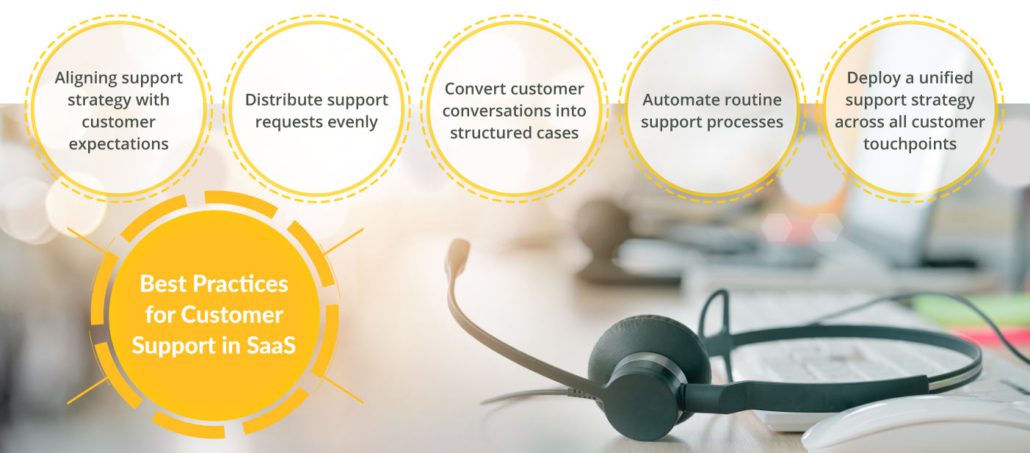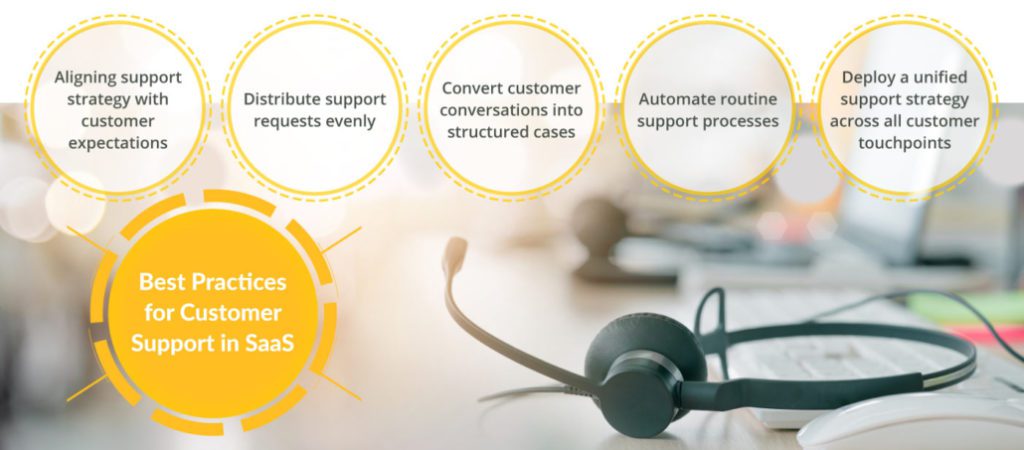 This has the potential to be a very long list. Among the steps that SaaS companies can take to boost their customer service and retain their audience are:
Aligning support strategy with customer expectations: Market research and data of existing customers should provide a thorough understanding of what to expect of support. No matter what your support strategy looks like– and how many opportunities for answers there are– everything should align with what your customers expect.
Distribute support requests evenly: The more efficiently and evenly the load is distributed, the more likely each support concern will be addressed. This, of course, requires a large and well-trained team so that requests can be spread throughout the group.
Convert customer conversations into structured cases: The past is often prologue; you don't need Shakespeare to see that. Previous customer conversations can be leveraged into case studies that inform future questions, providing the service team with a guidebook. If every customer conversation becomes a structured case, then every concern will be addressed, and you'll have a point of reference for future issues.
Automate routine support processes: Any support process that can be automated should be automated. Taking busywork out of your employees' hands frees them up to address more complex questions and concerns. Automated support offerings can help customers feel seen and heard– even when there is no live agent there to listen or watch.
Deploy a unified support strategy across all customer touchpoints: This ties into making sure that your strategy aligns with customer expectations. If your customers anticipate one kind of customer service because they received it from you once, you must offer that same service level at every touchpoint. It helps reaffirm customers' choice to stick with you.
These are just a few easy steps to integrate into your workflow in order to improve customer service. Easy steps– like distributing work evenly and automating basic processes– can make a tremendous difference for a busy customer support team.
Outsourcing Customer Service: SaaS Companies Can Sustain Growth in 2021
Another way of achieving excellent digital customer service is outsourcing. In working with a service expert, you benefit from that provider's experience, and your employees can focus on what they do best.
At GlowTouch, we proudly offer outsourced customer service coverage for SaaS companies. It is fair to say that this sector is among our strengths, and we have built a reputation for providing world-class outsourcing solutions to a wide variety of clients.
When you are ready to take that next step and offer service worthy of your software products, reach out to us. You'll be connected with an industry professional who will address your concerns.