Leadership Program and Talent Executive Each Earn Bronze Stevie Award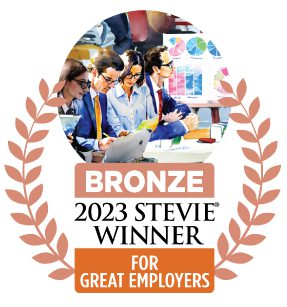 (LOUISVILLE, KY) – GlowTouch LLC, a Unify company, and global Business Process Outsourcing (BPO) services provider, was prominently recognized in two critical areas, affirming its strategic commitment to both leadership development and talent acquisition excellence.
COMPASS, a leadership development program designed by GlowTouch, earned a lauded Bronze for Best Leadership Development Program. This achievement acknowledges the rigorous and comprehensive career advancement opportunities provided by the COMPASS program, which was established amid a growth phase where GlowTouch expanded its global footprint. Participants are offered extensive training and development resources, enabling them to flourish in supervisory roles and other disciplines within the organization, thereby fostering internal growth and retention.
Parallelly, Danann Smith, the Director of Talent Acquisition for GlowTouch, was awarded a bronze in the category of Talent Acquisition Professional of the Year. Smith's innovative and unifying strategy for global recruiting and hiring across multiple locations has exponentially bolstered the company's hiring and new hire retention, proving instrumental in managing the company's worldwide growth.
The successful COMPASS initiative and Smith's laudable contribution underscore the company's emphasis on empowering both its workforce and leadership. Michelle Castillo, Senior VP of Corporate Services at GlowTouch, hailed the COMPASS program as a vital tool for internal promotion and growth, and praised Smith for her significant impact on enhancing the hiring process and applicant quality.
Reflecting the global resonance of the Stevie Awards, over a thousand nominations from organizations in 28 countries were submitted. The winners, determined by judges' ratings complemented by more than 100,000 public votes, embody exceptional performance in their respective fields. "We congratulate all of the winners in the eighth edition of the Stevie Awards for Great Employers for their outstanding performance, and we look forward to promoting their achievements on our blog and social media over the coming year," affirmed Maggie Miller, president of the Stevie Awards.

The remarkable recognition at the Stevie Awards highlights GlowTouch's steadfast dedication to enhancing career paths and refining talent acquisition, underlining its ongoing contribution to setting superior standards in the BPO industry.

About the Stevie Awards
Stevie Awards are conferred in eight programs: the Asia-Pacific Stevie Awards, the German Stevie Awards, the Middle East & North Africa Stevie Awards, The American Business Awards®, The International Business Awards®, the Stevie Awards for Great Employers, the Stevie Awards for Women in Business, and the Stevie Awards for Sales & Customer Service. Stevie Awards competitions receive more than 12,000 entries each year from organizations in more than 70 nations. Honoring organizations of all types and sizes and the people behind them, the Stevies recognize outstanding performances in the workplace worldwide. Learn more about the Stevie Awards at http://www.StevieAwards.com.