Citation Comes During the Annual GWFM Hackathon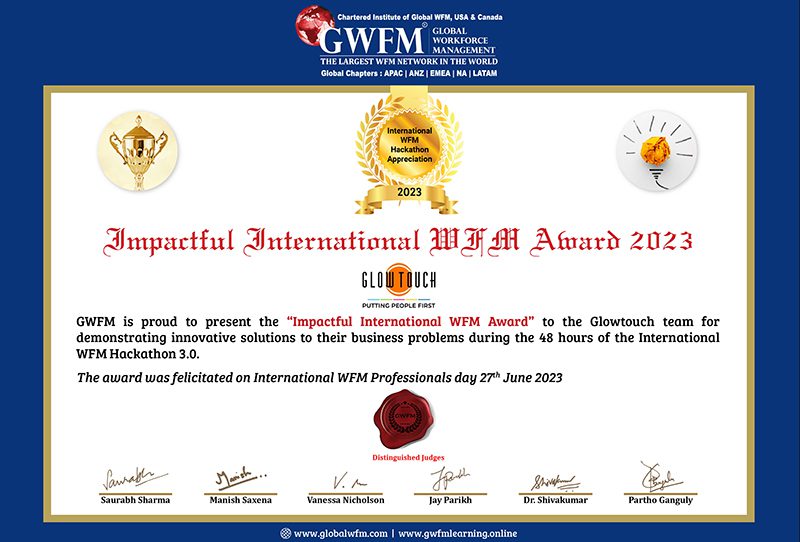 (Louisville, KY) – For the fourth time in five years, GlowTouch has won an award at the Global Workforce Management Innovation Hackathon. This time, the team claimed the Impactful Award for its project using artificial intelligence to maximize scheduling and staffing optimization.
"We are honored and thrilled to be recognized in an international competition that featured so many innovative workplace solutions," said Raghunandan M N, Director of Workforce Management at GlowTouch. "The project integrates process excellence and continuous improvement as the drivers for innovation that provides value to the company and our clients. The judges noted how we use AI in a unique way, as a tool to augment how companies can address the real-world issue of strategically placing people while also being mindful of workplace compliance laws."
Raghunandan teamed up on the project with Ranojoy Acharjee, GlowTouch's Director of Quality,
who designed the AI component that fit the requirements of Workforce Management.The key benefits of AI augmentation include cost savings from allocating personnel appropriately, shorter hold and wait times for customers, better handle times among service agents, and a smoother experience all around.
The Hackathon is managed annually by the Chartered Institute of Global Workforce Management, the world's largest WFM forum. This year's competition included 21 teams from 16 companies, with the top ten being recognized for achievement. GlowTouch has been cited in four of the past five events.