At GlowTouch, we've built a team of passionate support agents that handle more than 4 million support contacts per year and 10,000 chats and email contacts each day. We've learned quite a bit about developing and retaining excellent staff. In this article, we share insights from our experience in support to help you in mastering agent turnover.
In our experience, no matter how strong a support operation, turnover is inevitable. We've seen success by focusing on keeping our teams effective and engaged, while retaining as many top performers as possible. To help you do the same, this article drills down into:
What Healthy Turnover Looks Like
How to measure your turnover — and understand the causes beyond top-line turnover rate, so you can improve your organization
Strategies for reducing bad turnover
Let's dive in. For comparison's sake, let's start with some industry benchmarks:
Average overall employee turnover for all industries is 15%
Inbound customer service centers have a turnover rate on average of 30-45%
It should come as no surprise that contact center turnover is double what you'd see in other businesses.
Workers age 20-24 stay in any job usually just 1.1 years
Workers 25-34 stay 2.7 years on average
As the bulk of frontline contact center staff are young, it's important to note you're likely to see high turnover as your people seek to progress in their careers.
Now, some context.
You want the bulk of turnover to be involuntary, or forced, turnover represented by the lowest performing, most disengaged team members. This sort of turnover can actually make your organization more efficient and improve the culture. But if your top people are constantly leaving, you can see not only high costs, but also:
Potential damage to work relationships
Lower morale
Redistribution of workloads
Loss of legacy knowledge and skills
Lack of continuity
Lower quality service passed on to customers
Hits to company culture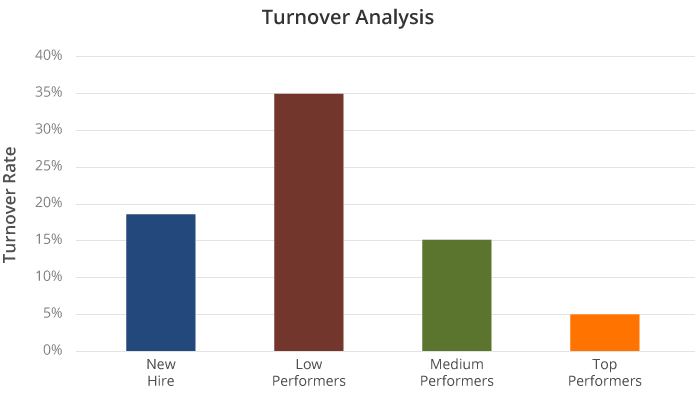 The goal is to have a chart that looks something like the following:
In an ideal world, you'd be able to set your performance standards and have every team member meet them. But inevitably when you don't have a great fit or some team members get burnt out, people will fall short. In an exceptional support operation, 90% of team members are performing at or above expectations, and turnover is concentrated most heavily in the bottom 10% of performers.
In most situations, you want to continually track results and regularly turn over your bottom performers. If you do have top staff leave, you may be tempted to lower your standards. But don't do it. The cost of lowering your standards to retain low performers is usually higher and much more damaging long-term than the cost of turning them over.
Measuring Turnover Effectively
The two most important metrics for tracking turnover are:
Turnover rate
The cost of turnover
In this section, we'll start by unpacking turnover rate, then drill down into the details of turnover rates and, last, cover the costs of turnover.
Turnover Rate = (staff who leave)/(average number of employees in a *set time frame).
*Turnover is usually calculated annually.
But you want to track turnover in several different ways to really drill down and understand your turnover rate:
Internal turnover (moving within your company) vs. external turnover (leaving your company
Voluntary vs. involuntary turnover (or forced/firings vs. unforced/employees moving on)
Turnover rate by team and supervisor
Turnover by contact/inquiry type

Certain types of contacts may take more time, resources and stress than others, causing a (often fixable) high turnover rate

Turnover by performance level

Are you losing your best people or your least productive? Some turnover is good if it lets you get better as a team, but you don't want high turnover among your best people

Turnover by longevity

It often takes three months of training and three more months of on-the-job experience to reach peak performance, while months 6-30 are max productivity time for most agents, until it's time for many to move up or out.
For context on costs, the Human Resource Institute places the average cost of turnover at $10,000 – $15,000 to replace each frontline staff member, while Deloitte puts that cost at $12,000. A study from Insightlink Communications found turnover costs add up to 25-30% of a worker's salary and benefits.
When it comes to calculating your cost of employee turnover, include all the following costs:
Recruiting
Hiring time (HR time, interview time)
Training, including materials and time
Low-productivity time when employees first start out
Supervisory time
Overtime (remaining staff may have to cover extra shifts)

Strategies for Reducing Turnover
If your numbers are out of whack, here's what to do.
Hire the right people
Provide clear advancement opportunities
Track performance and progress
Recognize and reward top performers
Build great leadership
Create a great work culture and show your team appreciation
Maintain open communication and continuous improvement
Hire the Right People
Start by evaluating your current team to see the traits of your top performers. Inventory the skills you need vs. what you have to identify the gap. You can use personality tests and strengths assessments, starting with your own staff, to help identify the traits of your top performers and find similar candidates. Hiring people who are "over-qualified" for lower level roles may be a double-edged sword, as they may be more likely to jump ship quickly, but they'll likely do a great job while they're with you.
Lay Out a Career Path Toward Advancement
While you always need people at the lowest level, implement programs that allow people to grow within their roles, such as training to handle different types of contacts. Good contact centers use a series of small steps — such as "levels" with pre-set training, certification, timelines and compensation programs.
Early on, identify those you want to progress to senior roles, the folks who prefer to stay in lower-level roles and the people who aren't great fits. If you're proactive and open with advancement opportunities, it'll give your team the certainty and stability they need to stay longer.If you're proactive and open with advancement opportunities, it'll give your team the certainty and stability they need to stay longer. #CustomerSupport Click To Tweet
Continuously Track Performance and Progress
Make the expectations for success clear to your team. Develop programs to identify low and high performers, then learn why people may be underperforming:
Is it a supervisor?
Is it a lack of training?
Are they just bad fits?
Develop employee improvement programs for under performers — you can use probationary periods. If you foster open, honest communication, you may be able to improve their work and keep them longer. You'll also have a better hold on who to retain and who isn't a good fit.
Recognize and Reward Top Performers
Of course, you can't expect to retain your team without competitive pay and benefits packages.
But in addition, proactively discuss raises for top performers. Make it clear up front how they can earn more within your organization, so they know they don't have to look elsewhere to progress. Go beyond compensation. Show them you value their work by creating a positive atmosphere. Whether it's lunches, gift cards, donations to their favorite charities, accommodating scheduling, or even just regular pats on the back actively show your people you care.
Put Great Supervisors in Place
There's an old saying: people aren't motivated by companies; they're motivated by leaders. With poor supervisors, teams will underperform, and with great ones, they'll excel. The numbers back this up.
Recent research found employees with supportive supervisors are 1.3 times more likely to stay with the company and are 67% more engaged.
If you're doing a great job of identifying top performers and progressing them into leadership roles, your whole team benefits, making everyone more likely to stay.
Keep an Open Dialog with Your Team
Give your people channels to address their concerns.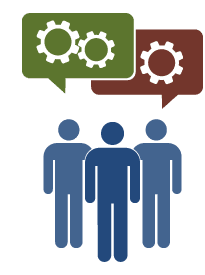 "Stay interviews," in which you ask employees (typically starting with top performers) for ways to improve, can go a long way. Ask questions such as:
What do you find most and least satisfying about your role and working for us?
Do you feel supported in career goals? What can we do to improve our support here?
Do you feel recognized and rewarded? What kind of recognition/reward is most meaningful for you?
Hold regular 1-on-1 performance reviews between supervisors and team members to foster dialog and improvement.
Schedule direct dialogs between senior support leadership and front line staff — without their supervisors present. Most staff will be more open and provide insights no one else can.
Use Your Team's Feedback to Get Better
Customer support can be a repetitive job. But one of the most common frustrations of front-line staff is that they're seeing the same customer complaints again and again.
Use a closed-loop system to relay front-line observations of contacts and customer issues upstream to appropriate staff, so root causes can be fixed. Then, let your team know you've addressed what they've told you. You'll create a sense of continuous improvement and make your staff feel they're not just spinning their wheels, like they're more than frontline staff. Then, you get a culture of agent ownership, and often lower turnover.
Intentionally Build Your Company Culture
Whichever culture you choose to build, be intentional about it. Make a purposeful decision on who you want to be as a company and support team. One big mistake is to let company culture be a default culture.
All the elements we've talked about in this article, from hiring and training to supervisors and open communication, are big contributors to company culture. But culture is much more than that.
It's the core values you support, the personality of your company and its leaders, the innate way of doing things — passed along to every new hire. It can affect everything from dress code, company outings and lunches, company swag, workplace interactions to the way how agents engage with customers and each other. And it has a big impact on whether or not your people stay.
Exit Interviews, Yes; Counter Offers, Not so Much
What happens when you do everything right and your best people leave anyway?
Conduct an exit interview with them, then let them go and wish them well. Learn why they're leaving, and if it's something you can control, fix whatever it is that may have driven them away.
You may be tempted to make a counter offer, but be careful with this. According to a study by HCI, more than 70% of people who stay because of a counter offer leave within nine months. Why? Counter offers don't address their underlying reasons for leaving, such as:
Relationships (with supervisors or team members)
Lack of opportunities for growth
Working conditions and benefits
If you make counter offers, use comprehensive offers that address all the underlying issues behind your people leaving.
Master Your Turnover
Once you've got a strong idea of how your team is performing and have dug into your numbers, you'll find it easier to improve your operation, retain your best team members and maintain a healthy level of turnover. For more information, email us at info@glowtouch.com
Check our How to Scale Customer Support — Without Breaking the Bank for even more great tips!